As experts in global materials sourcing, we can help you select the right materials and find a source that best fits your needs. We are often able to negotiate lower minimum order quantities and reduced pricing.
Sourcing through Partnerships
As partners, each one of our customers has access to our expansive network of both global and domestic vendors. Our experience includes:
Textiles
Hook and Loops
Adhesives
Foams
Webbings
Brand Embellishments
Laminates
Tapes and Elastics
We are also able to coordinate the application of special coatings such as antimicrobials, fire retardants, and oil resistant finishes.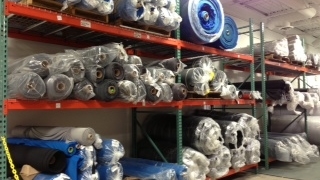 Warehousing and Distribution
We offer warehouse storage for raw materials and finished goods as well as logistical support such as drop shipping direct to your customer or finished goods blanket order and just in time releases as you require.