Industrial Contract Sewing
Red Fox is your preferred commercial sewn goods SUPPLIER as all manufacturing is PERFORMED on-site AT OUR arden hills, minnesota FACTORY. our experienced team will oversee every step of the process from development to mass production. with a wide array of machines, from standard industrial machines to highly advanced and efficient programmable electronic machines, if your product requires cutting and sewing, we can do it.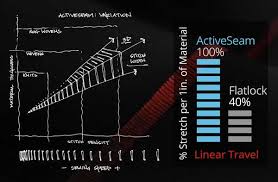 Standard Sewing Machines
straight stitch

zig zag

coverstitch

overlock / serger

... AND MANY MORE
Programmable Electronic Sewing Machines
Quickly sew complex patterns and lower costs with the push of a button and application-specific tooling

4" x 9" or greater sew area

greater accuracy, quality and strength
Merrow ActiveSeam
Stronger, flatter, outstanding aesthetics, and more comfortable than flatlock seams

differentiate your soft goods with superior quality and a unique look
Contract Cutting Services
A soft goods supplier is only as good as its tools and equipment used to cut and prepare the item for sewing and assembly. At red fox, we use state of the art equipment that maximizes accuracy and efficiency. the end result is a higher quality and more cost effective final product that you can be proud of. whether you are looking for a supplier to cut your fabrics, plastics, foams, or roll goods, or one that is equipped to handle the entire manufacturing process from start to finish, we have you covered.
high tech / highly efficient fabric cutting
Gerber Gtxl
Truly state-of-the-art fabric and full width roll goods cutting. This machine can cut single layers or multiple layers of full width fabric plied up to 7/8" thick. A vacuum holds each layer of material firmly in place to allow for precise cutting and consistent quality. A CAD-based pattern is created and nested to minimize waste and unused material.
contract die cutting services
Atom 25 ton clicker press
Our presses range from 8-25 tons of cutting force with bed sizes up to 20" x 40" and head sizes up to 24" in width. Materials ranging from robust .200" HDPE to hook and loop can be cut with ease.
for roll goods, webbings, velcros and more
hot & cold strip cutting
Our equipment quickly and precisely cuts webbing, lace, hook, loop, elastics, and just about any material on a roll. For materials that require a sealed end to prevent fraying, an hot blade automatically performs the operation in one step. The end result is a higher quality and less expensive product.
Ultrasonic & Hot Air Welding Services
if your application requires a solution beyond sewing, we have the tools and expertise. we manufacture products that are durable, sealed, cleanable, waterproof and/or seamless. for those in the medical device industry, reduce potential for contamination. for soft goods or outdoor gear, welding can add function and style. the possibilities are endless.
ULTRASONIC WELDING
BRANSON 2000X
HOT AIR WELDING
LEISTER SEAMTEK 900 AT
SEAM TAPING
WATERPROOF YOUR PRODUCT